2016 Honda HR-V Driving Impressions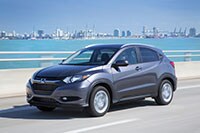 Driving the 2016 Honda HR-V is comfortable. The 1.8-liter four-cylinder is adequate for everyday commuting and light errands.
The most fuel-efficient choice is the front-wheel-drive model with the continuously variable transmission (CVT), which feels fine in normal traffic but lags between shifts and feels gutless when the throttle is punched. The better option is to use included paddle shifters, which can select from a number of pre-set gear ratios. It makes the HR-V more fun, but sacrifices fuel economy. The six-speed manual transmission is predictably more engaging, though gas mileage suffers.
Ride and handling are on par with other Hondas, with an independent front and rear torsion beam suspension that eats up bumps and ruts without being overly cushy. The HR-V gets a stiffer structure and additional sound dampening versus the Fit, which makes for a quieter, more stable ride.