2015 Dodge Challenger Summary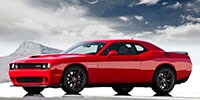 The addition of the supercharged Hellcat V8 raises the redesigned Challenger lineup from formidable to extraordinary. In the surprisingly persistent realm of muscle cars, the Hellcat raises the ante, delivering competent dynamics and immense power for a relative bargain price. It's docile enough for everyday driving, provided the driver can resist the omnipresent temptation of the throttle. But its true reason for being is the race track, in particular the drag racing track. The 2015 Dodge Challenger offers a broad array of power choices, handsome interior options, and sophisticated electronics, wrapped in slick sheetmetal that's faithful to the Challenger's glory years. Then again, with this lineup, the case can be made that the Challenger's glory years are now.
Tony Swan filed this report to NewCarTestDrive.com after his test drive of the 2015 Challenger models near Portland, Oregon.